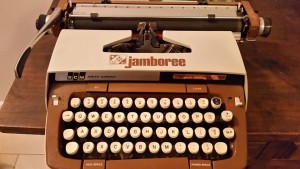 I subscribe to several Scouting patch trading/collecting forums on Facebook(tm).  This evening, I got a surprise when I saw an image of what I know is MY typewriter….
Mike Selby wrote: "Looking for info on this typewriter. It is from the 1977 BSA National Jamboree. My guess is that possibly it was used by the writers of the daily newsletter and given to them at the end of the jamboree. I picked it up at a yard sale a few years ago and have never found out anything about it. Any info is greatly appreciated."
I wrote back and responded: "YOU STOLE MY TYPEWRITER, Michael Selby!!! *heheheheehehee*

Unless you came into our basement office, and TOOK it and the case, I have one EXACTLY LIKE THIS (except that it needs to be cleaned and oiled I'm sure!!) in the same condition this one seems to be. Here's the story!!!

Hometown News gave ONE per Regional Area to a Scout journalist who had the best coverage of a news story on the Jamboree during the ten days of the Jamboree. My hometown newspaper along with three other newspapers in the area, carried my DAILY stories and published them along with photos I took and stock photos from the BSA. I left the Jamboree with TWO typewriters — because not only did I have the best in my Regional Area, but I also had the BEST in the Southeast Region…and they ran out of the medals (I got one later). I gave one of the typewriters to my Explorer Post and kept the other one for myself.


The Explorer Post gave it to the Fort Knox "Inside the Turret" newspaper for display and the last time I saw it was in 1990 when I went back home for the Army Newspaper Editors' Conference. I'll have to ask someone where they placed it…they probably sold it on eBay somewhere…"
I followed it up with…
"I was told that the retail price of the Jamboree Edition typewriters are about $120 in 1977 dollars. I would estimate that if yours is in good condition (mine as I stated need some cleaning, oiling and a new tri-color ribbon (black, correction, red) ), it would probably still go for about that same price as a "historical item". In my redo of my office, mine will find a place beside the "MegaGeos" computer desktop in a corner on top of a lateral filing cabinet.  eBay has the same typewriter less the BSA logo — SMITH CORONA CLASSIC 12 MANUAL PORTABLE TYPEWRITER — for $50″